Biodegradable Urns For Burial
Handmade With Love
Free Shipping
100% Biodegradable
Got questions?
You can always contact us and we will gladly assist.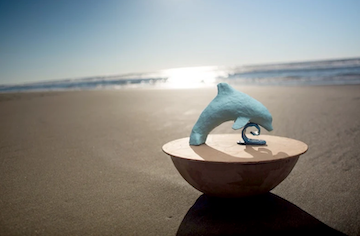 The Perfect Goodbye Vessel
Many of us are looking to celebrate the life of our loved one in a non-traditional way that isn't harmful to the environment. If this is something that speaks to you, an eco friendly burial is a great choice.
Say goodbye and send your loved one back to nature in a beautiful biodegradable urn.
Choosing A Eco Friendly Cremation Urns
To help you choose the best vessel for returning your loved one back to nature, below are the most popular types of biodegradable urns available.
Biodegradable Urns For Water
If you're planning a sea scattering ceremony, a water burial urn is a perfect choice. The most common natural materials used, which are not disruptive to any water environment are recycled paper, sand or salt. Just make sure of the regulations of your country regarding sea burials before making any preparations.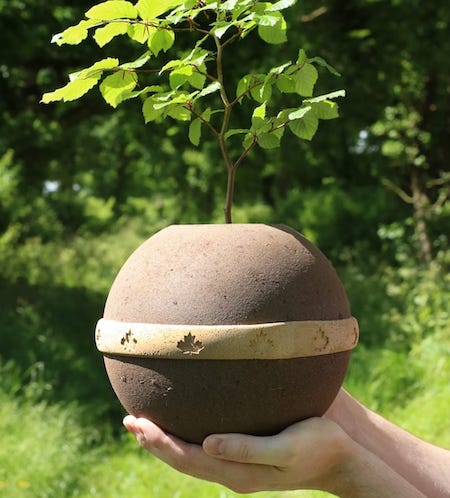 Urns for Ground Burial
For those who want to inter their loved one's ashes in a ecologically friendly way, a biodegradable burial urn would be a perfect memorial. These urns are usually made from organic materials like palm leaves, paper, clay, olive pits, and wood, as well as other plant matter. Some of our biodegradable urns come with a special compartment to add a seedling that will eventually become a memorial tree.
Tree Urns
Another great choice for a biodegradable cremation urn is a Tree Urn. Mixing a seed with your loved one's cremated remains, you can give life to a new tree.
They're a beautiful concept which allows families to memorialize their loved ones in a unique, natural, and authentic manner.
Scattering Urns
If you prefer to scatter your loved one's ashes in a particular location, then a simple scattering urn will make the process a lot easier. These are very basic containers usually made of bamboo or cardboard. Scattering urns offer an endearing way to say your last goodbye and return your loved one's ashes to their last resting place.
Why Choose a Biodegradable Urn?
Choosing a biodegradable urn is not just about making eco-friendly choice. It's also about personal values, the legacy one wishes to leave behind, and the symbolic significance of the natural burial. Below are some of the popular reasons why people choose a biodegradable cremation urn.
Environmental Benefits
Reduced Carbon Footprint: When producing a biodegradable urn, it generally requires less energy compared to traditional urns, therefore reducing the carbon footprint.
Natural Decomposition: Biodegradable urns break down naturally without leaving any residue, and therefore don't affect the environment.
Avoids Chemical Leaching: Traditional urns, especially those made of certain metals or can leak chemicals into the soil. Biodegradable urns eliminate that risk.
A Return to Nature
Living Memorials: Many of us like the idea of giving back to mother nature. And what better way to contribute and continue living through the spirit of a tree.
A Personal Ceremony
Many families want the flexibility to grieve and celebrate the life of their loved one in a way that is meaningful to them. Families find that a biodegradable urn provide these benefits.
Choosing the final resting place, the act of scattering or burying, and creating a personalized memorial ceremony, are all symbolic things that encourage healing.
Common Questions About Biodegradable Urns
How long does a biodegradable urn last?

This will depend on what the biodegradable urn is made with and where you choose to lay it to rest.

For example, a biodegradable urn for water usually dissolves within 5-15 minutes. While a bamboo urn buried in the ground will take around 1 year to 18 months to biodegrade completely.

While it's not an exact science, we try to give approximate time estimates on all our biodegradable urns in the product description. If you want more information, you can always contact us and we'll do our best to answer your questions.
How do you fill a biodegradable urn?

Usually instructions will be provided with the urn that you have purchased.

If no instructions have been provided, here are some general guidelines to follow.

1. Open then container which currently holds the ashes.

2. Place biodegradable urn in a stable place and open the lid.

3. Open the biodegradable bag (If provided) and carefully empty the ashes into the bag. Make sure to seal the bag

4. Place the biodegradable bag into the urn and seal the lid.
What are biodegradable urns made from?

Biodegradable urns can be made from variety of natural materials that a suitable for ground and water burial.

The most common sustainable materials are paper, sand, salt, gelatin, corn starch, natural binders, and other organic materials.

You can be sure that all the materials our artists use are 100% biodegradable are eco friendly for the environment. Always be sure to check each individual product description for urn material details.
Is it ok to throw ashes in the ocean?

It is perfectly ok and legal to spread ashes in the ocean, but you must follow all EPA regulations. We recommend that you check out their website for the exact guidelines.

Here are some important things to know:

1. Any type of remains, including ashes, can only be placed in the ocean 3 nautical miles from land or more.

2. Only biodegradable urns may be used. Any materials placed in the water must easily decompose in a marine environment.

3. You can release flowers or wreaths into the water, but they must decompose easily.
How long do water urns take to dissolve?

Once again, the amount of time it takes for an water urn to dissolve can vary quite a bit.

Usually it takes anywhere from 5-15 minutes.

However float time will depend on specific water and weather conditions.

Also keep in mind that these urns are designed for the complete ashes of one adult. Therefore only including a partial amount of ashes may result in longer float time.
Do you need permission to scatter ashes at sea?

You don't need permission but you must follow the rules and guidelines set by the EPA. You can find these guidelines on their website.