Handmade With Love
Free Shipping
Engraving Available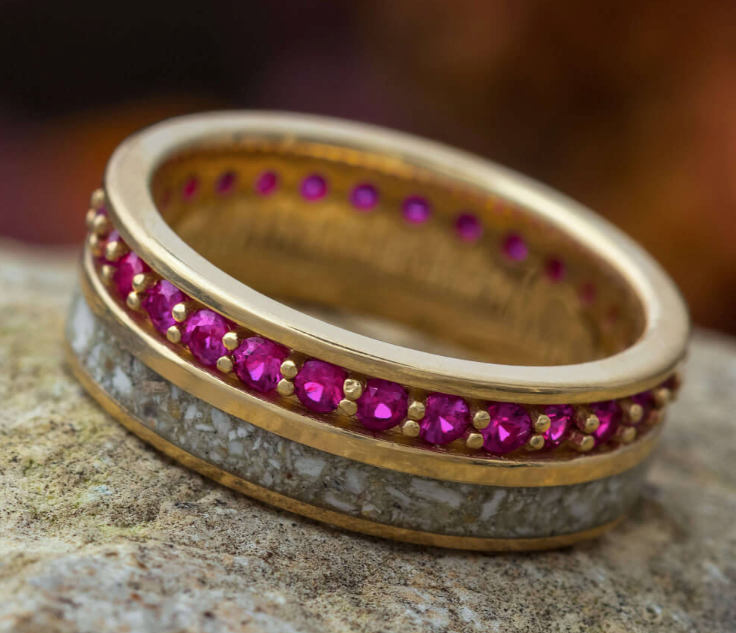 Buying Gold Cremation Jewelry
If you're interested in buying Gold Memorial Jewlery, we suggest reading all of the information below in order to make a comfortable decision.
Our selection of jewelry comes in quite alot of shapes, styles, sizes and prices.
If you have any questions at any time, feel free to get in contact with our memorial experts.
Different Gold Types
You'll find that Gold Cremation Jewelry comes in a variety of different styles. In order to understand what you're buying, we will go through these different types.
Gold Plated Jewelry

The most affordable option Gold Plated Cremation Jewelry involves applying a layer of gold over other metals. With proper caution, care, and maintenance, this type of memorial jewelry can last a considerable amount of years.
Gold Vermeil
Gold Vermeil Cremation Jewelry has a layer of 14 karat gold placed (at least 2.5 microns) over a 925 sterling silver base.
Due to the thicker layer of gold plating, it is more durable than gold plated jewelry, and tends to be more durable.
It is also hypoallergenic and more affordable than solid gold & gold filled jewelry.
Gold Filled
Gold-Filled Cremation Jewelry is made up of a thicker layer of gold than previous options. It requires at least 1/20th or 5% of its weight bonded to a base of some metals.
Gold filled jewelry is hypoallergenic, excellent for daily wear, and less likely to discolor over time. It's also still a very affordable option.
Solid Gold
Solid Gold Cremation Jewelry is the highest quality pieces and should last forever.
Usually ranging from 12-18 karats, it is hypoallergenic, won't discolor, and is ideal for daily use.
If you're looking to create a family heirloom that can be passed down for generations, we highly recommend choosing solid gold. It's definitely more expensive, but it's guaranteed to last.
Personalized Gold Cremation Jewelry
There are a number of common options offered by artists to personalize your piece of Gold Memorial Jewelry. Here are some of the common ways below:
Gold Color
One of the most obvious ways to personalize a piece of cremation jewelry is by using a specific gold color.
Yellow gold: The most traditional and common type of gold chosen for jewelry, yellow gold is radiant, timeless, and a symbol of vitality. 
Rose Gold: Elegant and feminine, Rose Gold is a popular option that can represent love & compassion.
White Gold: Very stylish and understated, White Gold Jewelry is commonly associated with purity & harmony.
Ashes into jewelry
What could be more personal than creating a piece of jewelry made out of the ashes of your loved one? To make a piece of ash infused jewelry, you'll need to send the artist or jeweler less than a teaspoon of ashes. The ashes are then infused into a gemstone, glass, resin, or some other type of material. 
Engraving
Most cremation jewelry types are engravable, where you can add a name, a few words, or memorable date. Some are also photo engravable where you have the option to engrave a photo of the deceased directly onto the jewelry piece. 
Fingerprints
With fingerprint cremation jewelry, you can have the deceased's fingerprint laser engraved on the jewelry piece.
Birthstone
With birthstone cremation jewelry you can have a lovely birthstone of your choice incorporated into the design.  You can choose your birth date or that of the person who is no longer here.
Common Questions About Cremation Jewelry
How much ashes can you fit in a keepsake?

Generally speaking, you should be able to fit anywhere from an 1/8 to 1/2 a teaspoon of ashes in the keepsake.

Of course this will depend on the size and design of the jewelry piece. It's a good idea to find the ash capacity in the product description or reach out to our memorial experts.
Can you only use ashes for cremation jewelry?

Cremation jewelry is not limited to ashes alone but is also used for storing sentimental items in remembrance of a lost pet or person. Examples of these items include:

- A strand of hair

- Dried flower petals

- Burial site ground
How do you fill cremation jewelry?

- Open the bail or screw cap, use a small screwdriver and place it to the side.

- Take the small, enclosed funnel and insert it in the opening of the jewelry piece.

- Gently pour a tiny bit of ashes into the cavity, don't overfill it.

- Replace the screw tightly, ensuring that it sits flush on the jewelry surface.

- For adding adhesive, slightly remove the screw (not all the way) and use a toothpick to add about half a drop of glue into the screw threads.

- Re-insert the screw and close it securely. Clean away any excess of adhesive.
Is cremation jewelry waterproof?

There is no guarantee that your jewelry will be waterproof as the minerals in water or chemicals in swimming pools can damage the jewelry. We recommend taking it off before taking a shower, bathing, or swimming. 
How much does cremation jewelry cost?

A good rule of thumb, anywhere between $100 - $2000 is a good range. You can go higher when dealing with expensive gemstones.

Like with regular jewelry, price will depend on the materials, the deisgner, size, and the amount of work involved.
How do you take care of cremated jewelry?

Maintaining and caring for cremation jewelry is essential to ensure it lasts for many years to come. You can do the following:

- Do not wear the jewelry during rigorous activity. Take it off before swimming, sleeping, bathing, or taking a shower.

- Store it in a velvet pouch or jewelry box when you're not wearing it.

- Familiarize yourself with special caring instructions for specific materials.
Are cremation ashes toxic for my skin?

No, cremation ashes are not toxic and is safe to touch. Ashes contains bone matter and trace amounts of minerals like sodium and potassium.

In saying that, if you understandbly don't want to touch ashes, we recommend you use gloves when moving them.