Flame Memorial Paperweights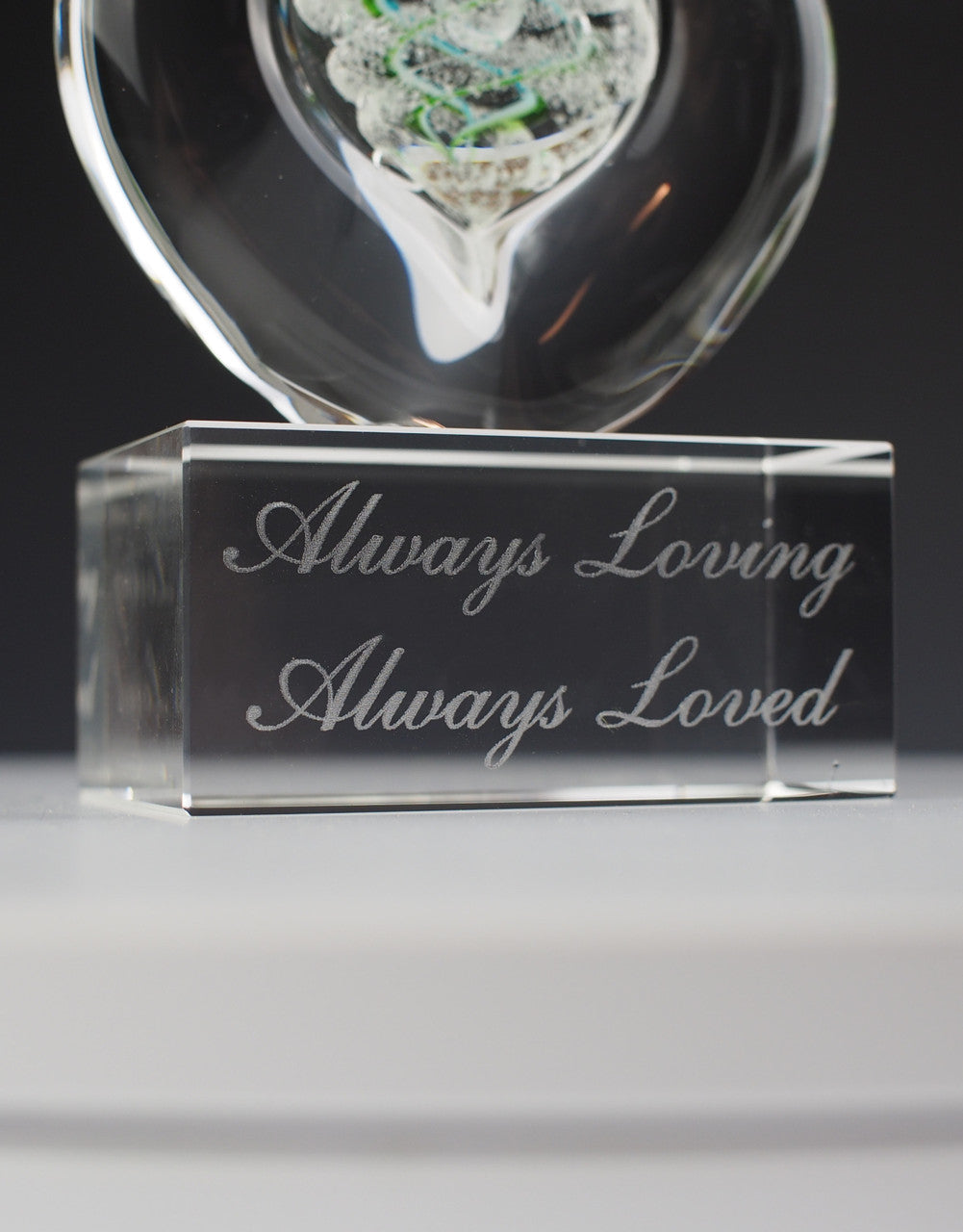 Why Choose A Memorial Paperweight?
There are so many reasons why you might want to memorialize your loved one with a cremation paperweight. Here are some of the reasons why this type of memorial is perfect for you:
You want to celebrate the life of your loved one with a colorful and vibrant piece of cremation art
You love the idea of a skilled blown artist creating a one of a kind keepsake for your loved one
You want the memorial to have its own set of unique colors, patterns, and ashes display
You want a glass keepsake that is small, portable, and easy to keep close
Ordering Cremation Art
If you've decided to order a piece of Cremation Art, you can be sure that your loved one's ashes are handled in a safe and respectful manner. To give you an idea of the process, here are the important steps below:
You place an order for a memorial(s)
We will send you our You Are Forever kit (Free of charge), which includes an ashes collection kit, a Priority Express Envelope (Unpaid), along with instructions of how to fill & send the ashes.
You fill and send* your loved one's ashes to the artist(s) creating your memorial.
Expect the artist to send back your memorial within 6-8 weeks after them receiving the ashes.
*It is important to note that you will need to pay for sending your loved one's ashes kit back to the artist. According to postal regulations, it is only permitted to send cremains via USPS Priority Express (Which usually costs around $27). While we highly recommend sending via this method, we will accept cremains that arrive by other means.
Common Questions About Cremation Paperweights
Can a cremation orb be used for multiple purposes?

We know they're paperweights and by all means they can be used for that purpose. However you can also think of them as a decorative item or glass keepsake for your loved one.
How much ashes do you need to make a cremation orb

Generally speaking, you will need to send an 1/8 to a 1/4 of a teaspoon of ashes to the artist.

Each product description should say how much ashes is needed (As it can vary between artists) otherwise the amount is written on your work order form.

If you're ever in doubt, feel free to contact our customer service team.
How do you personalize a memorial paperweight?

This will depend on the blown glass artist you work with, but generally cremation paperweights can be personalized by color, shape, size, and certain patterns inside the memorial.

Some artists also offer engraving options, whether on the paperweight or on a base.
IS CREMATION PAPERWEIGHTS WATERPROOF?

There is no guarantee that your jewelry will be waterproof as the minerals in water or chemicals in swimming pools can damage the jewelry. We recommend taking it off before taking a shower, bathing, or swimming. 
How can I clean and maintain an ashes paperweight?

Use a soft, lint-free cloth and a mild glass cleaner. For specific advice, follow the artist's cleaning instructions to ensure its longevity.