Our Glass Cremation Necklaces
Deeply Personal
One of a kind jewelry that you can always keep close to your heart
Quality Assured
All of these memorials are made by skilled North American Blown Glass Artists
Easy Process
We treat you and your loved one's ashes with the utmost care and respect.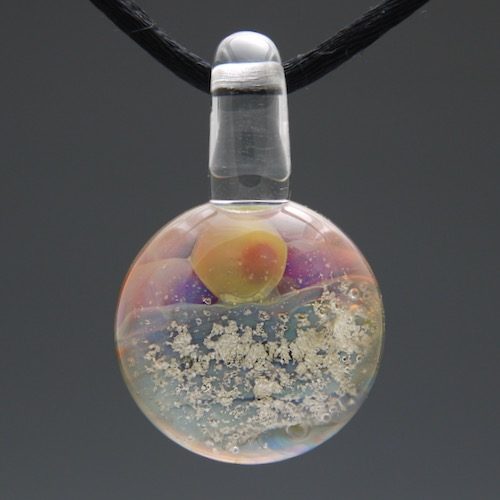 Buying Blown Glass Cremation Pendant?
Glass Cremation Jewelry is a very popular choice to remember a loved one.
Unique, affordable, stylish, one of a kind, are just some of the reasons why people love our glass ashes pendants.
Our selection of Cremation Necklaces comes in all types of shapes, colors, and patterns, made by our talented blown glass artists.
Ordering Cremation Art
If you've decided to order a piece of Cremation Art, you can be sure that your loved one's ashes are handled in a safe and respectful manner. To give you an idea of the process, here are the important steps below:
You place an order for a memorial(s)
We will send you our You Are Forever kit (Free of charge), which includes an ashes collection kit, a Priority Express Envelope (Unpaid), along with instructions of how to fill & send the ashes.
You fill and send* your loved one's ashes to the artist(s) creating your memorial.
Expect the artist to send back your memorial within 6-8 weeks after them receiving the ashes.
*It is important to note that you will need to pay for sending your loved one's ashes kit back to the artist. According to postal regulations, it is only permitted to send cremains via USPS Priority Express (Which usually costs around $27). While we highly recommend sending via this method, we will accept cremains that arrive by other means.
Common Questions About Cremation Jewelry
How much ashes do you need create a cremation pendant?

Generally speaking, you will need to send an 1/8 to a 1/4 of a teaspoon of ashes to the artist.

Each product description should say how much ashes is needed (As it can vary between artists) otherwise the amount is written on your work order form.
Can you only use ashes for cremation jewelry?

For these type glass pendants, usually you can only use ashes. However it's always worth checking.

For other types of Cremation Jewelry products, it is not limited to ashes alone.

These materials could include:

- A strand of hair

- Dried flower petals

- Burial site ground

- Hair from an animal
Is cremation jewelry waterproof?

There is no guarantee that your jewelry will be waterproof as the minerals in water or chemicals in swimming pools can damage the jewelry. We recommend taking it off before taking a shower, bathing, or swimming. 
How much does cremation jewelry cost?

A good rule of thumb, anywhere between $100 - $2000 is a good range. You can go higher when dealing with expensive gemstones.

Like with regular jewelry, price will depend on the materials, the deisgner, size, and the amount of work involved.
How do you take care of cremated jewelry?

Maintaining and caring for cremation jewelry is essential to ensure it lasts for many years to come. You can do the following:

- Do not wear the jewelry during rigorous activity. Take it off before swimming, sleeping, bathing, or taking a shower.

- Store it in a velvet pouch or jewelry box when you're not wearing it.

- Familiarize yourself with special caring instructions for specific materials.
Are cremation ashes toxic for my skin?

No, cremation ashes are not toxic and is safe to touch. Ashes contains bone matter and trace amounts of minerals like sodium and potassium.

In saying that, if you understandbly don't want to touch ashes, we recommend you use gloves when moving them.