Scarlett Teardrop Cremation Ashes Necklace
Regular price

Sale price

$155.00
The Highlights
Suitable pendant for humans & pets
Made by a skilled North American Blown Glass Artist
Infused with a small amount (¼ teaspoon) of your loved one's ashes
Dimensions: Approximately 1" tall
Other colors may be available on request
The Scarlett Teardrop Ashes Necklace encapsulates your loved one's ashes in a swirl of color, all within a clear glass teardrop.
It stands at about 1" tall, and each piece has its unique ash and color pattern. Crafted from molten glass, this pendant is a touching tribute and a piece of art in its own right.
You can choose to pair it with an elegant black satin cord or opt for a sterling silver snake chain for a more personalized touch.
Who is this memorial perfect for?
If you or your loved one found beauty in the complexities of emotions, then this Scarlett Teardrop pendant is a fitting choice.
It's like a canvas of feeling, each swirl representing a different emotion or memory.
Spiritual symbolism

The teardrop shape is more than just a design, it's a symbol of the raw, unfiltered emotions that make us human.
It serves as a reminder that it's okay to feel, to grieve, and to love. The swirl of colors and ashes within the pendant adds another layer of meaning, symbolizing the mix of emotions and experiences that make up a life.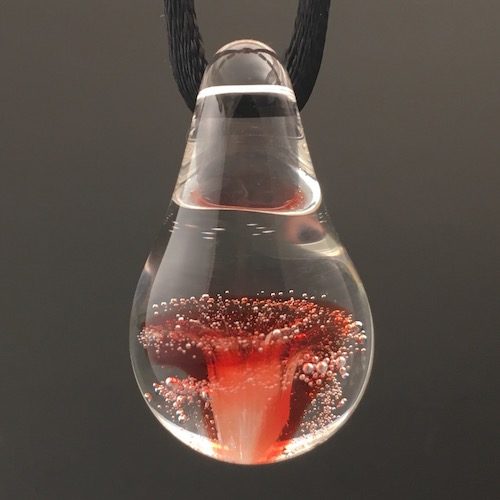 Choosing a selection results in a full page refresh.