Lotus Handmade Biodegradable Urn
Regular price

Sale price

$285.00
The Lotus urn offers a striking and sophisticated natural memorial for letting go of your loved one's ashes either in water or in the earth.
The urn is made from 100% biodegradable materials and will naturally disintegrate over time. An exquisite hand-painted Lotus flower adorns the lid that rests on the base. Two leather cords keep the lid in place with no glue required.
The item weighs one pound and has a storage capacity of 200 cubic inches, not exceeding 200 pounds. Pay your last respects to a friend or family member with this unique biodegradable urn. 
A water soluble bag and scattering instructions are included. 
How long does the urn take to sink?
These urns are designed to float for around 5-15 min, however float time will depend on specific water and weather conditions. Also keep in mind that these urns are designed for the complete ashes of one adult. Therefore only including a partial amount of ashes may result in longer float time.
Shipping Times
The urn is shipped (USPS Priority) 1-2 business days after the order is placed. If you're in a rush and need the urn by a certain date, please contact us on 850-846-882 to see if we can accommodate your request.
The Highlights
Material: paper and balsa wood
Color choice for flower: yellow, pink, or white
Height: 7.75 inches
Diameter: 13.5 inches
Holding capacity: 200 cubic inches (up to 200 pounds)
Personalization: customise the urn by adding fresh flowers.
Scattering Laws: Federal burial at sea guidelines require that cremated remains be scattered at least three nautical miles from land.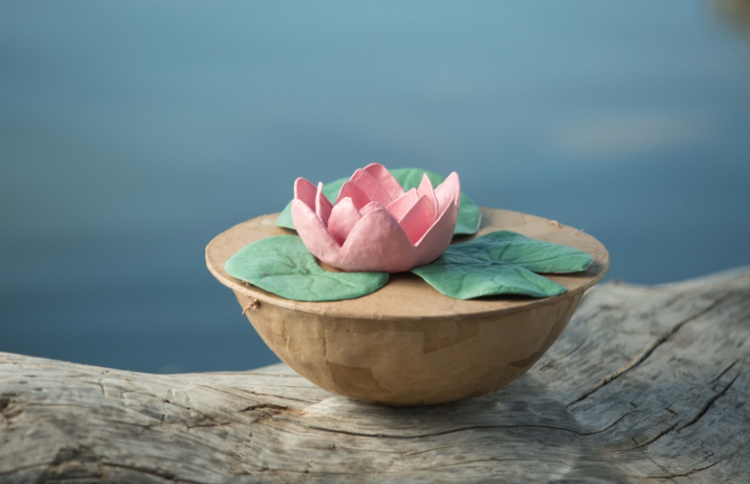 Beautiful Urn. Excellent Service.
Needed the urn quickly. Customer service made it happen. Beautifully crafted urn.