Michael Aram Forget Me Not Memorial Vase
Regular price

Sale price

$310.00
The Highlights
Measurements: Medium (9.5" H x 6" Dia) Large (12" H x 8" Dia)
Material: Stainless Steel, Natural Brass, & Purple Enamel
This memorial candle by Michael Aram makes a thoughtful sympathy gift or a heartfelt tribute for a loved one.
If you're looking for an exquisite keepsake to honor the timeless bond with your loved ones, then this white Vase from the Forget-me-not Flower Collection will be the perfect centerpiece in your home. 
Our artist Michael Aram captures the essence of faith and renewal, drawing inspiration from the delicate allure of forget-me-not flowers. The vase's pristine white surface serves as the perfect canvas for the intricate golden swirls, reminiscent of graceful tree branches, while handcrafted purple flowers delicately encircle the swirls, adding a touch of elegance to the design.
Spiritual Symbolism & Color
The golden swirls symbolize the interconnectedness of life and the profound beauty of nature's embrace. Each swirl represents a branch, reaching out and intertwining with others, symbolizing unity, growth, and the ever-changing journey of life. 

The hand-crafted purple flowers symbolize wisdom and transformation. The combination of white, gold, and purple colors evokes a sense of purity, preciousness, and the eternal nature of love and remembrance.
Who is this urn perfect for?
For Families
For families looking for a simple yet special way to keep their loved one close to them. 
For families seeking a handmade memorial (Every urn has its own unique pattern) that adds a touch of warmth
For large families who are looking to share their loved one's ashes and have multiple memorials
The Loved One
For a loved one who cherished family bonds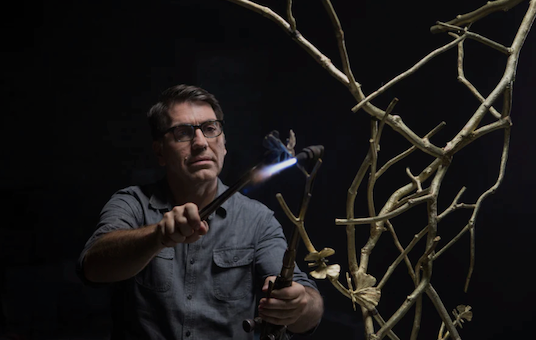 About Michael Aram
Michael Aram is an award winning artist who combines his skills as a painter, sculptor, and art historian to make stunning home decor products. Working with over 200 artisans, he has created an exquisite range of tableware, linens, and most recently handmade memorials.
Inspired by nature and his surroundings, Michael's creations pair delicate organic details with signature metalwork.
What Customers Are Saying
This dove urn is just as beautiful as it looks on the website. The quality and the craftsmanship exceeded my expectation!

Amy P

Add customer reviews and quotes to showcase your store's happy customers.

Author

Add customer reviews and quotes to showcase your store's happy customers.

Author