Dolphin Biodegradable Water Burial Urn
Regular price

$320.00

Sale price

$265.00
This delightful dolphin urn is ideal for scattering the ashes of a loved one in a large body of water.
Skilled artists create each item by hand, using only eco-friendly biodegradable materials. It is suitable for holding the ashes of one person, not exceeding 200 pounds in weight.
The urn is placed in the water before sinking, then the ashes will break down naturally over time. 
A water soluble bag and scattering instructions are included. 
How long does the urn take to sink?

These urns are designed to float for about 5-15 min, however float time will depend on specific water and weather conditions. Also keep in mind that these urns are designed for the complete ashes of one adult. Therefore only including a partial amount of ashes may result in longer float time.
Dolphins are symbols of protection and are believed to be good omens. Perhaps the person you've lost was very fond of the sea, which makes this burial urn the perfect item for honoring the life of a departed family member or friend. 
Shipping Times
The urn is shipped (USPS Priority) 1-2 business days after the order is placed. If you're in a rush and need the urn by a certain date, please contact us on 850-846-882 to see if we can accommodate your request.
The Highlights
Material: paper and plant-based glue
Color choices: blue dolphin sculpture on tan colored base
Height: 10.25 inches
Diameter: 13.5 inches
Holding capacity: 200 cubic inches (up to 200 pounds)
Personalization: customise the urn by adding fresh flowers.
Other features: Environmentally friendly urn made with biodegradable materials
Two leather cords securing the lid onto the base
Scattering Laws: Federal burial at sea guidelines require that cremated remains be scattered at least three nautical miles from land.
Disclaimer for orders shipping outside of the USA
Import duties, taxes, and brokerage fees are not included in the product price or shipping and handling cost.  These charges are the buyer's responsibility as we are only charging the transportation fee for your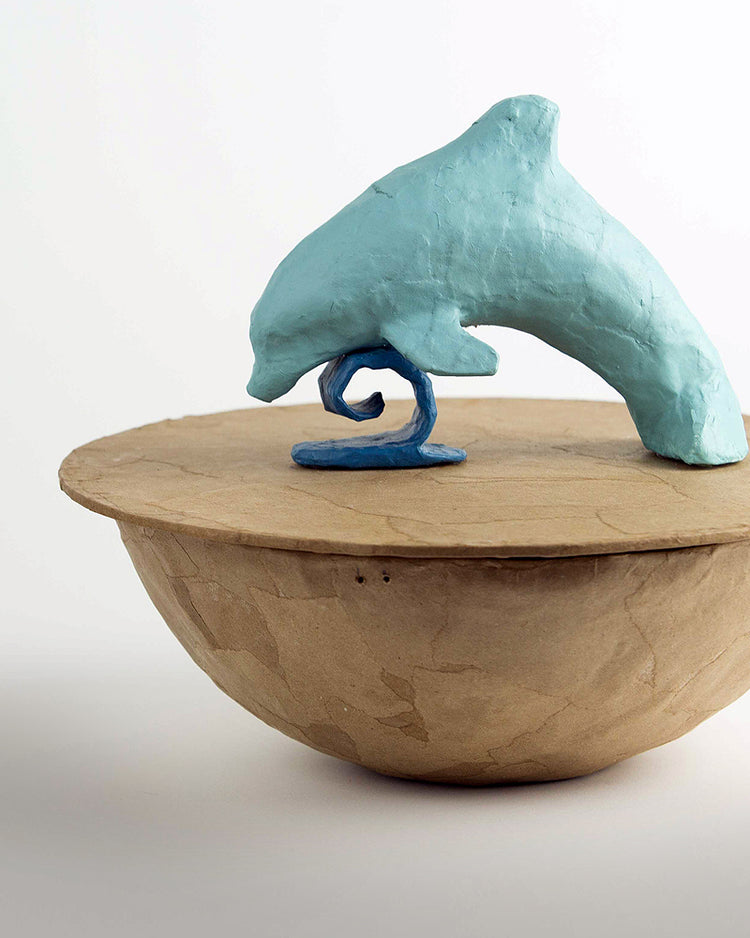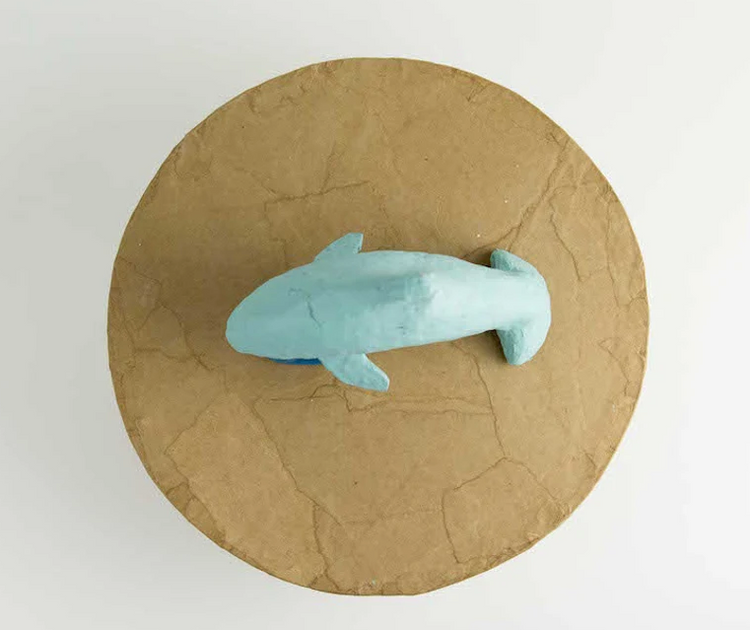 Beautiful way to say goodbye
We used this dolphin urn to scatter my mom's ashes at sea. Everything went to plan and the urn worked perfectly. It floated on the surface for several minutes before it began to go down. The urn looks beautiful and is very well made. I would recommend it for anyone scattering ashes at sea.
Perfect for a Boat Scattering
My family purchased this urn to say good bye to my dear father. As someone who worked on boats most of his life, this seemed like the perfect urn for him. The urn arrived promptly, well packaged, and looked fantastic. The craftsmanship of the urn is top notch and worked exactly as advertised.
Quick Response, Lovely Urn
We realized very late that an urn was needed to scatter ashes in the sea, as our loved one wanted. I called You Are Forever in a panic. They calmed me down and responded quickly, in time for the funeral sale. The expedited shipping was very reasonably priced.
The dolphin urn was simple but lovely. I knew immediately that our uncle would have loved it!
Definitely recommend if you want a biodegradable urn, to avoid a White Lotus situation of ashes blowing in everyone's faces:)
Thank you!!
Beautiful design
The Dolphin Urn was beautiful and worked as advertised.
Would recommend!
The quality, talent, and skill that went into this urn exceeded my expectations. My daughter always had a fascination with the sea, especially with dolphins. So among the other beautiful urns on this site, the dolphin urn was an easy choice. A special thank you to Adam for being so helpful and patient with me.